HEART SILENCE OF POLYGON ?>
HEART SILENCE OF POLYGON
For F. – Maria Bohdziewicz

For my Mother – Grzegorz Ziółkowski
The performance is devoted to the problem of the recognition of one's own identity and obligations when humanity is called into question. It is a gesture of compassion towards animals and people harmed by war, fanaticism and ideology, as in the case of Meriam Ibrahim who was sentenced to a public flogging and death by hanging for misappropriation of the dominant religion.
---
HEART: video 2016
---
The performance on the motives of Wajdi Mouwad's drama Incendies is composed of two parts: Charred Remains – Suite: Thinking about animals from the bombed zoo and Al-Atlal – Ruins: Remembering the story of Meriam Ibrahim… The first of them, the prelude, is dedicated to all the animals who have been victims of human stupidity and vanity, and constitutes a bridge from TAZM Silence of Light to the second 'ventricle' of the HEART – Al-Atlal – Ruins. TAZM and HEART together form Duet ON SILENCE.
---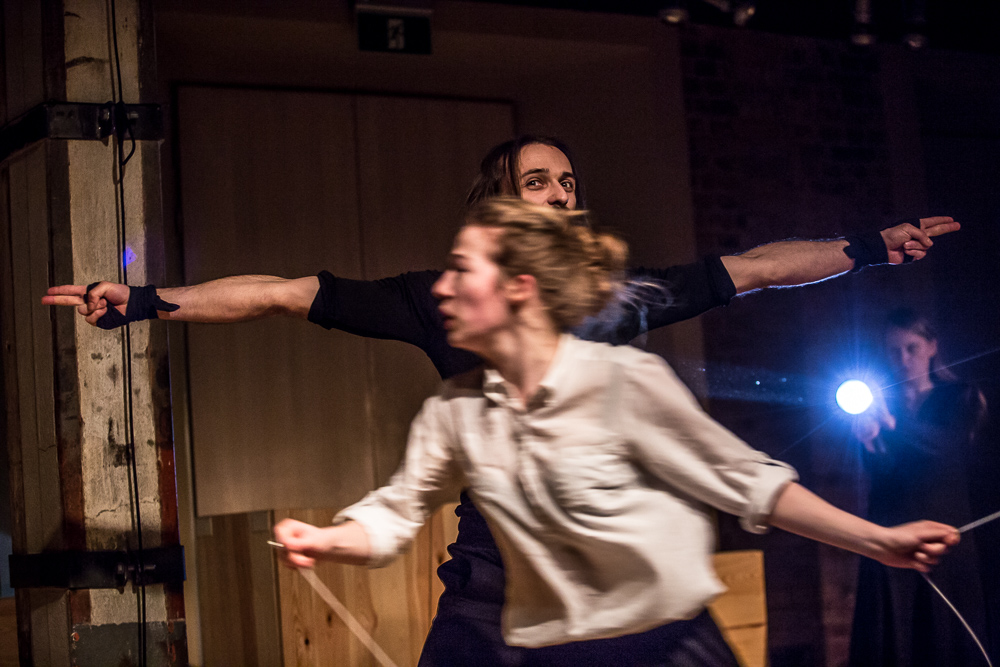 ---
Direction, musical dramaturgy, scenography, lights: Grzegorz Ziółkowski
Text: Grzegorz Ziółkowski on the motives of Wajdi Mouwad's drama Incendies, with a fragment of a poem Al-Atlal (Ruins) and a quotation from Under the Volcano by Malcolm Lowry as well as with fragments of lyrics of The Logical Song by Supertramp (authors: Richard Davies, Roger Hodgson) and Silence is Sexy by Einstürzende Neubauten. The performance text was to a large extend elaborated during rehearsals.
---
---
Actors:
• Maria Bohdziewicz – Meriam, Midwife, Guide, Attendant, Woman
• Maria Kapała (acting collaboration) – Twin Sister, Mother, Grandmother
• Maciej Zakrzewski – Twin Brother, Beloved-Father, Nihad
• Grzegorz Ziółkowski – Notary
Technical assistance: Marta Pautrzak
---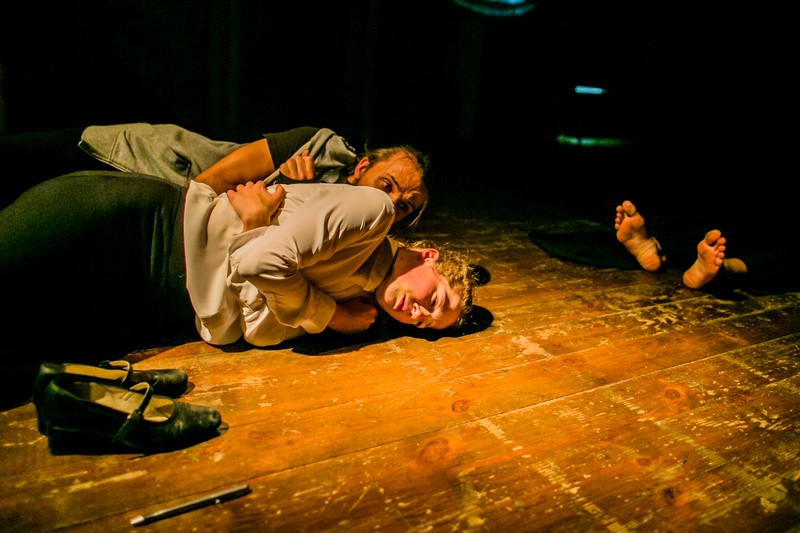 ---
In the performance a Greek lullaby You're a flower among flowers is sung. We owe its presence to Aphrodite Evangelatou. Thank you!
Music fragments:
• Charred Remains – Suite: Valgeir Sigurðsson's album Architecture of Loss: Guard Down, The Crumbling, Between Monuments, World Without Ground, Guardian at the Door, Big Reveal
• Al-Atlal – Ruins: Hildur Guðnadóttir's album Without Sinking: Elevation, Unveiled; Supertramp The Logical Song (remix); Hanna Kulenty A Cradle Song; Einstürzende Neubauten Silence Is Sexy
We would like to thank the participants of ATIS 2014 SITE OF THE FIRE: Julia Lewandowska, Meysam Ghaseminejad, Paulina Wilczyńska and Yildiz Gülmez.
The outline of HEART Silence of Polygon was presented for the first time in the Theatre Studio of Adam Mickiewicz University in Poznań on 20 February 2015 and later – on 24 May, on the occasion of Mother's Day. The performance was elaborated during STUDIO||ROSA's theatre exploration Feeling the PULSE (2015–16) supported by the Grotowski Institute, Wrocław. In 2016 the performance was part of the KaravanAct theatre festival in Romania.
MOTHER-EXECUTION

On fire…

Three days ago everything was on fire,

everything…

everything went up in flames.

One militiaman prepared the execution of three brothers.

He lined them up in front of the wall.

Their legs were shaking.

Others pulled their mother by the hair,

stood her in front of her sons

and the militiaman shouted:

"Choose!

choose, choose which one you want to save.

Choose!

Choose or I'll shoot all three of them!

I'm going to count to three,

and I'm going to kill all three of them!

Choose!"

And she…

unable to speak,

unable to think,

shook her head,

and looked from one son to the next!

With her heavy breasts

and body ravaged by having carried all three of them.

She looked at the militiaman and said,

as a last hope,

"How dare you,

look at me,

I could be your mother!"

And then he hit her.

"Don't insult my mother!

Choose!"

Then she said a name

and collapsed.

And the militiaman shot the two youngest

and left her first born alive.

And the eldest son was trembling!

And he just left him.

And walked away.

And the two bodies fell.

And the mother stood up

and in the middle of the town in flames she began to wail

that she had killed her children.

Fragment of the performance text based on Wajdi Mouwad's Scorched

trans. Linda Gaboriau