TAZM SILENCE OF LIGHT ?>
TAZM SILENCE OF LIGHT
TAZM Silence of Light depicts attempts to find an internal vertical axis in a situation of extreme, inhumane, or perhaps – unfortunately – arch-human oppression. It raises questions about what a person's source of strength is that helps him or her survive in extreme conditions which destroy the body and heart-mind.
---
TAZM: video 2014; video 2012
---
The performance is based on Tahar Ben Jelloun's This Blinding Absence of Light. The book is a literary adaptation of an account by a former prisoner of a dungeon in Morocco, who survived eighteen years (from the 1970s till the beginning of the 1990s) in the darkness of TAZMAMART.
---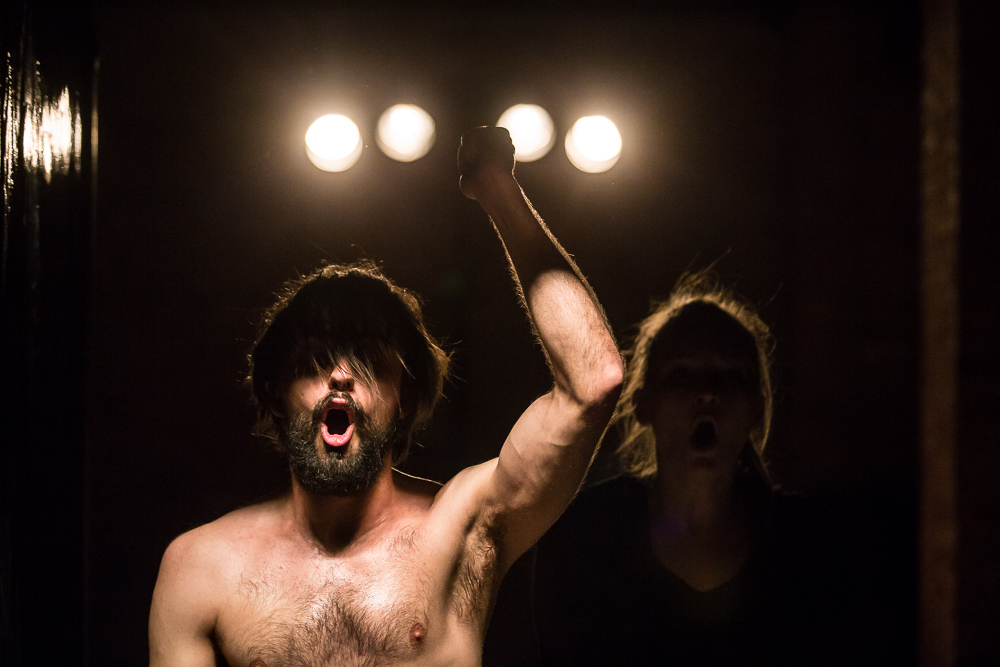 ---
Direction, musical dramaturgy, scenography, lighting: Grzegorz Ziółkowski
Text: Grzegorz Ziółkowski based on Tahar Ben Jelloun's This Blinding Absence of Light with fragments of The Stranger by Albert Camus. The performance text was to a large extent elaborated during rehearsals.
---
Actors: Maria Bohdziewicz (Tebebt) and Maciej Zakrzewski (Salim)
Music fragments: The Remote Viewer by Coil and Quasi una fantasia by Henryk Górecki, performed by the Kronos Quartet
---
---
The performance, dedicated to Dobrochna Ratajczakowa, was presented for the first time in the Theatre Studio of Adam Mickiewicz University in Poznań in December 2012. Since then it has been performed there more than sixty times for free.
In 2014 TAZM was presented in Tehran (Iran) and at the University of Kent in Canterbury (England), following an invitation from Prof. Paul Allain, and in 2015 and  2016 at the Grotowski Institute in Wrocław. In 2016 the performance was part of the KaravanAct theatre festival in Romania.
SILENCE

When you go through an ordeal,

the simplest things seem to be the peak of dreams…

Silence!

Silence… envelops me,

Alighting like a calming hand upon my shoulders…

Silence…

A mirror reflecting the soul.

Silence – it never weighs on me.

I become silence myself.

My breathing, my heartbeat, my inner nakedness…

My secret… Secret.

OF THE HEAD-A BULLET-IN THE BACK!!!

The silence.

The silence of night; a necessity.

The silence of the companions who were slowly leaving.

The silence: a sign of mourning.

The silence of blood circulating sluggishly.

The silence that told you where the scorpions are.

The silence-oppression.

The silence of images which ran and reran through the minds.

The silence of the guards that expressed weariness and routine.

The silence of the shadow of memories burnt to ashes.

The silence of a leaden sky from which no sign could reach us.

The silence of absence, the blinding absence of light.

If I stop hearing your stories, I will waste away.

I know you haven't got much strength left,

that your voice is hoarse from the cold,

that you've lost another tooth this week,

but I'm begging you,

come back to work…

Opening fragment of the performance text